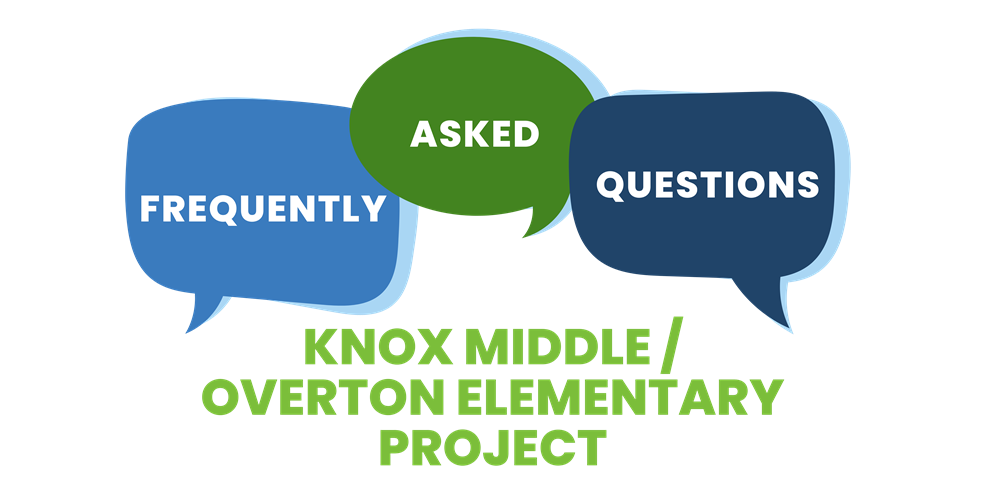 FAQs - Construction and Facilities
Please share the current project plans and renderings.

Is this the original construction plan, or did RSS scale back to a middle school-only plan?

What is the timeline for this project?

What is the projected cost of this project?

Will the new facility have a comparable gym, auditorium, space and amenities to our current facilities?

How often will the public be updated on the building process?

Will organizations have the opportunity to dedicate resources to the school?

When will staff be required remove their belongings, and will they be compensated for time spent outside of the workdays?
FAQs - Reassignments
How will RSS determine to which locations students are reassigned?

How and when will reassignments be communicated with families?

Which schools will Knox students be moved to while the new building is built?

Will Overton Elementary School be closed during construction as well?

What are the guidelines and reasons for student transfers?

Will transporation be provided for the students who are reassigned to a new school?

Will transporation be provided for the students who transfer from their reassigned school to a different school?

How will this project affect Salisbury High School?

If I have a student who is currently attending Knox Middle School on a transfer, where will they attend school for the next two years?

Has RSS considered reassigning these student to empty buildings around Salisbury?

Is it possible to keep teams together for athletics?

Will students be able to participate in athletics and the arts?

How does RSS plan to keep all students safe as they merge different student bodies?

How will staffing change at the schools that are gaining students, and what training will be provided to them?

Will all students be housed in the schools or in mobile units?
FAQs - New School
Has the school already been named and has a mascot been identified?

What will the leadership structure be for the new school?

What will the reentry process be for students and staff?

Is there a possibility of redistricting when the new school opens?

What innovative programs will be offered in the new school?

What before-school and after-school programs will be available when the new school opens?

Will the Dual Language Immersion (DLI) program be incorporated into the K-8 school?

Will there be a pre-K program at the new school?

Will elementary and middle school students ride buses together or separate?

What will the classroom sizes (students per teacher) be? 

What is the plan for re-opening and sending students back to Knox or Overton?
Knox Reassignment Information
Open Houses for Knox Transfers

May 3 at West Rowan Middle School - 5-6 p.m.
May 7 at Southeast Middle School - 3:30-4:30 p.m.
May 8 at North Rowan Middle School - 5-7 p.m.
May 9 at Erwin Middle School - 5-6 p.m.

Reassignment & Transfer Window

All incoming and current Knox Middle School students will be reassigned based on the realignment project. Once initial student reassignments are shared, we will open an additional transfer window. The additional transfer window is open and will close on May 12 at 2 p.m.

This transfer window will follow the same policy as our traditional transfer window. Transfer decisions will be shared with families by Monday, May 22, 2023.